Georg von Siemens
Talk

0
440articles on
Kuroshitsuji Wiki
Georg von Siemens
Kanji
ゲオルクフォンジーメンス
Romanji
Georuku fon Jīmensu
Characteristics
Race
Human (deceased)
Gender
Male
Professional Status
Occupation
Bank director
Personal Status
First Appearance
Manga Debut
Volume 9, Chapter 39
Voices
Georg von Siemens (ゲオルクフォンジーメンス, Georuku fon Jīmensu) is a German who comes to stay in England with Ciel Phantomhive and is an honorary director of the Bamberger Bank.[1]
Appearance
Edit
Georg is an elderly man with thick eyebrows and a large nose. He has short, grey hair that is slicked back and thick facial hair consisting of sideburns and a goatee. He wears a tuxedo suit with a bow tie, and when he become intoxicated, he wraps the bow tie around his head.[2]
Personality
Edit
When sober, Georg comes across as professional, calm and intelligent, easily discussing social and professional issues with others.[1] However, when drunk, he easily loses self-control and becomes forceful and somewhat violent, grabbing Irene Diaz after she asks him to stop and yelling at her and throwing a drink at her when she refuses to let him continue groping her. He blames such issues on others, such as claiming that his unwanted advances are Irene's fault for the way she dresses.[3] Ciel Phantomhive speculates that he is a repeat offender, frequently behaving this way, and Sebastian Michaelis believes he lacks self-restraint, either because Georg is a fool or because he is shameless.[4]
Manga's Synopsis
Edit
Phantomhive Manor Murder Case
Edit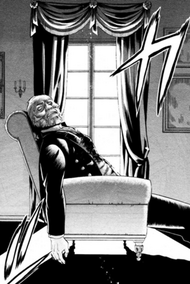 Georg is invited to stay at Ciel's manor, after he is requested to go to the house by Queen Victoria, and he arrives at a welcome banquet as the guest of honor. At the party, he discusses business with Ciel, Carl Woodley, Patrick Phelps, Lau, and Charles Grey. He later makes advances on Irene, openly groping her after she asked that he stopped, sparking Grimsby Keane's anger, who throws a bottle of wine at Georg. However, Sebastian intervenes and catches the wine, then uses it to pour drinks, which seems to calm everyone down. Eventually, Georg drinks too much and passes out, forcing Sebastian to carry him to a guest room.
Later, Georg requests assistance from the servants, and Mey-Rin and Sebastian go see what he want. when they arrive at his room, they find it locked and hear a loud scream, which attracts the other guests. When Georg will not open the door, Sebastian breaks it down and finds Georg covered in blood. Arthur Wordsmith inspects Georg and declares him dead.

It was revealed later that when they first discovered him dead, he was actually put into a state of apparent death by a substance, as seen in Romeo and Juliet, called Tetrodotoxin. He was killed later after Sebastian was stabbed, both by Charles Grey.[5]
(To Irene) "You really want to be touched, don't you? Don't pretend to be sweet and innocent now."[3]
Charles Grey tells Georg von Siemens to "come back in another 10 years". Assuming he died in 1901 (even though he actually died in 1889), in 1911 Peter von Siemens is born and during his tenure Siemens AG becomes the fifth largest electrical firm in the world.(Georg von Siemens was the nephew of Ernst Werner von Siemens who was the great grandfather of Peter von Siemens). It is unknown whether it overtook Britain's companies.
References
Edit
↑ Kuroshitsuji manga, Chapter 39 Page 30
↑ Kuroshitsuji manga, Chapter 39, page 30
↑ Kuroshitsuji manga, Chapter 49, page 7