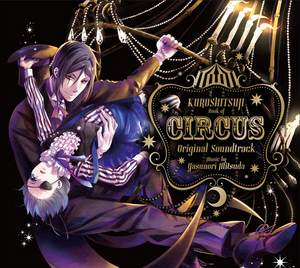 The Kuroshitsuji 3 Original Soundtrack is a compilation of music that appears in Kuroshitsuji: Book of Circus. It was composed by Yasunori Mitsuda.
Statistics
Catalog Number: SVWC-70017
Release Date: September 24, 2014
Publish Format: Commercial
Release Price: 3240 JPY
Media Form: CD
Classification: Original Soundtrack
Published by: Aniplex
Composed by: Yasunori Mitsuda
Arranged by: Yasunori Mitsuda, Sachiko Miyano and Kazune Ogihara
Tin whistle & Low Whistle: hatao
Flute: Hideyo Takakuwa
Oboe: Satoshi Shoji
Clarinet: Kimio Yamane
Bassoon: Masashi Maeda
Trumpets: Kenichi Tsujimoto, Masato Sawada
Trombones: Eijiro Nakagawa, Koichi Nonoshita
Chorus: Tomoko Kanda
Accordion & Harmonica: Hirofumi Mizuno
Guitar, Mandolin & Bouzouki: Masayuki Chiyo
Piano: Febian Reza Pane
Percussion & Synthesizer Programming: Yasunori Mitsuda
Strings: Hitoshi Konno Strings
1st Violins: Hitoshi Konno, Tomomi Tokunaga, Shizuka Kawaguchi, Naomi Urushibara, Yuya Yanagihara, Kyoko Ishigame
2nd Violins: Osamu Iyoku, Nagisa Kiriyama, Akane Irie, Yasuhiro Morimoto
Violas: Sachie Oonuma, Amiko Watabe, Misato Futaki, Chikako Nishimura
Cellos: Tomoki Iwanaga, Masateru Nishikata
Contrabass: Koji Akaike
Track List
book of circus (1:33)
all-around player (1:46)
clear the table (1:28)
obscure figures (1:04)
see through (1:43)
underground (1:12)
interdependence (1:33)
over the hills and far away -tin whistle- (1:12)
murmur (1:47)
faithful (1:41)
young master (1:40)
slapstick comedy (1:05)
felis (1:09)
indian summer (1:35)
defenseless (1:01)
miss the whole point (1:07)
innocent child (1:36)
poker face (2:02)
sweet tears (1:29)
crossing (2:02)
fall into a trap (1:59)
passing moments (1:48)
time has no mercy (2:14)
thorny (1:41)
fantasia (1:37)
with the wind (1:38)
over the hills and far away -harmonica- (1:42)
Reference
Ad blocker interference detected!
Wikia is a free-to-use site that makes money from advertising. We have a modified experience for viewers using ad blockers

Wikia is not accessible if you've made further modifications. Remove the custom ad blocker rule(s) and the page will load as expected.