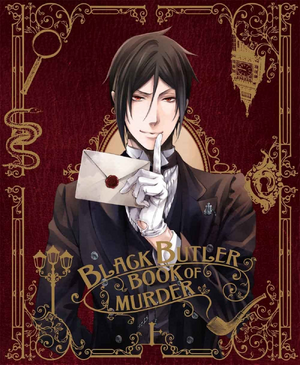 The Kuroshitsuji 4 Original Soundtrack is a compilation of music that appears in the OVA Kuroshitsuji: Book of Murder. It was composed by Yasunori Mitsuda.
Statistics
Catalog Number: ANZX-11362
Release Date: Jan 28, 2015
Publish Format: Commercial, Enclosure
Release Price: 7776 JPY (Package Price)
Media Format: CD
Classification: Original Soundtrack
Published by: Aniplex
Composed by: Yasunori Mitsuda (PROCYON STUDIO)
Arranged by: Yasunori Mitsuda and Sachiko Miyano
Locations: VICTOR STUDIO
Sound Producer: Yasunori Mitsuda (PROCYON STUDIO)
Flute: Dogen Kinowaki
Oboe: Tomoko Kusumegi
Clarinet: Hidehito Naka
Bassoon: Mariko Fukushi
Piano: Febian Reza Pane
Harp: Yuko Taguchi
Percussion & Synthesizer Programming: Yasunori Mitsuda (PROCYON STUDIO)
Strings: Konno Strings
1st Violins: Hitoshi Konno, Tomomi Tokunaga, Naomi Urushibara, Akane Irie, Natsue Kameda, Madoka Kurii
2nd Violins: Kyoko Ishigame, Yosuke Niwa, Risa Yamamoto, Shoko Oki, Akiko Konno
Violas: Sachie Oonuma, Amiko Watabe, Mayumi Taniguchi, Daiki Suzumura
Cellos: Masateru Nishikata, Yoshie Furukawa, Haruka Hayashi
Contrabasses: Shigeki Ippon, Hisami Tamaki
Track List
annoying visitor (1:05)
thick fog (1:36)
vague indication (2:03)
feel your presence (1:56)
missed you (1:44)
mysterious death case (1:37)
helplessness (1:32)
resolution (2:16)
close reasoning (2:03)
businesslike (1:35)
dark horse (1:39)
invitation to murder (1:33)
cold air (1:23)
in the depths of despair (2:06)
give voice to sorrow (2:20)
References
Ad blocker interference detected!
Wikia is a free-to-use site that makes money from advertising. We have a modified experience for viewers using ad blockers

Wikia is not accessible if you've made further modifications. Remove the custom ad blocker rule(s) and the page will load as expected.