Home
Talk

103
527articles on
Kuroshitsuji Wiki
Phantomhive Times
Best of 2014 Awards: The Best of [Insert Year] Awards are back, and now, we will be celebrating 2014! Start brainstorming ideas here! Navigate to the linked thread for more information on the event. Vote for the Best Revelation/Plot Twist, Best Scene, and Best Character now!!!
Important Notice: This wiki no longer accepts images in .jpg format; such images will be promptly deleted, without question. Always upload images of high quality, i.e. in .png format. Existing .jpg images on this wiki will eventually be replaced by their .png alternatives.
Did you know?: Since December 2013, Kuroshitsuji Wiki has a Twitter account! We will keep you updated with the latest news about the Wiki and the series itself! Follow us: @BlackButlerWiki
You can submit poll suggestions via Google Form! Please click here to try it out! For more information regarding this matter, please refer to this thread.
Forum discussions that are inactive for a period of two weeks or more will be closed. This is currently an informal rule that will eventually be incorporated into our policies; for the time being, it will simply be enforced.
A huge image readjustment stage is underway to facilitate the usage of Image Galleries. Images will be processed and deleted if they are duplicates, have poor quality, and/or serve no point to the articles. There will be various red links, and hopefully replacements of standard quality will be uploaded soon. For profiles having red links, the users that have uploaded those images have not been actively contributing for roughly a period of two months or more.
Please ensure you are familiar with Kuroshitsuji Wiki's policies, for they will be enforced. You can find them assembled at this link.
Main article: Kuroshitsuji Wiki:Phantomhive Times
Featured Article of the Month
Joker is a first-string member and surrogate leader of the Noah's Ark Circus.
---
Joker, being the surrogate leader of the circus troupe, is tasked with managing the shows and performing as the pierrot. Possessing a generally cheerful and easy-going demeanor, he constantly looks out and deeply cares for his fellow circus members. Despite this, he places greater importance on pleasing his benefactor Baron Kelvin, who rescued him and the other first-string members from the impoverished streets of the East End. He is later apprehended by Ciel Phantomhive for the kidnapping of various children and is killed by Sebastian Michaelis at Kelvin's manor.
Vote for the featured article of the month.
Main article: Joker
Featured Quote of the Month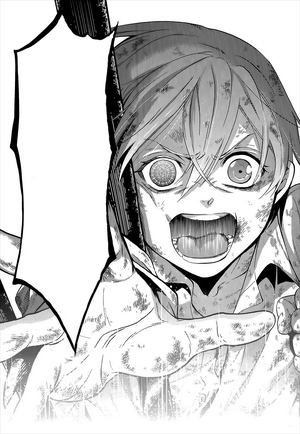 September 2014

I am not so noble that I would stake my life for someone else. Nor am I so forgiving that I would sit by and allow someone to trample me. I am a selfish . . . and self-righteous human being! That's why! I . . . to clear my own shame . . . I used your power. Not for anyone else! But for myself!

— Ciel Phantomhive to Sebastian Michaelis
Vote for the featured quote of the month.
Kuroshitsuji Wiki Poll
How excited are you for the two-part OVA, Book of Murder?
What do you think of Book of Circus thus far?
Results of previous polls:
Total votes: 694
Manga Poll: What do you think of the Witch Forest Arc thus far?
It's incredibly awesome! It's my favorite arc! = 44 Votes (6.34% of all votes)
I am really fond of it; it ranks rather high in my list of favorite arcs. = 303 Votes (43.66% of all votes)
Not bad, I like it, but some parts may be uninteresting/are not to my taste. = 191 Votes (27.52% of all votes)
I am neutral/have not really formed an opinion of it. = 68 Votes (9.8% of all votes)
Meh, I just want it to be over. = 16 Votes (2.31% of all votes)
Words cannot possibly express my hatred for this arc. = 16 Votes (2.31% of all votes)
The Public School Arc was better. = 56 Votes (8.07% of all votes)
Total votes: 775
Anime Poll: A new anime series for Kuroshitsuji has been green-lit! What is your personal preference/opinion regarding what the anime should be about?
A reboot of the entire series, where it actually follows the manga storyline = 567 Votes (73.16% of all votes)
Season 3 (continue with where Season 2 left off) = 208 Votes (26.84% of all votes)
Affiliated Wikis
Want to affiliate with us? Please contact us here.
Music Player
Click the "Pause" Button to turn off the music.