Home
Talk

103
499articles on
Kuroshitsuji Wiki
Phantomhive Times
July 2: The Watchdog Training Unit has been launched! Are you a peasant at editing? Join our new program and become a lord at it. More information can be found here!
General Announcements: Yana Toboso has officially named the current arc on her blog, Green Witch Arc! Additionally, all episodes of the second season have been renamed to Episodes 25-36! You can now use episode redirects to your advantage; for instance, "Episode 36" would redirect you to the final episode of season two. See more information here.
Did you know?: Since December 2013, Kuroshitsuji Wiki has a Twitter account! We will keep you updated with the latest news about the Wiki and the series itself! Follow us: @BlackButlerWiki
Forum discussions that are inactive for a period of two weeks or more will be closed. This is currently an informal rule that will eventually be incorporated into our policies; for the time being, it will simply be enforced.
A huge image readjustment stage is underway to facilitate the usage of Image Galleries. Images will be processed and deleted if they are duplicates, have poor quality, and/or serve no point to the articles. There will be various red links, and hopefully replacements of standard quality will be uploaded soon. For profiles having red links, the users that have uploaded those images have not been actively contributing for roughly a period of two months or more.
Please ensure you are familiar with Kuroshitsuji Wiki's policies, for they will be enforced. You can find them assembled at this link.
Featured Article of the Month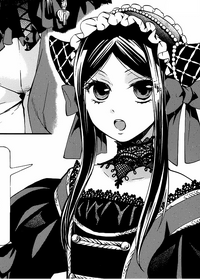 Sieglinde Sullivan is the current Green Witch and Lord of the Witch Forest.
---
Although only eleven years old, Sieglinde is the leader of the village Wolfsschlucht. As the present Green Witch, it is her responsibility to protect her villagers and appease the werewolves. She cannot walk because she practices foot binding, as part of the Green Witch tradition. Due to the fact that she has never left the premises of the Witch Forest, she is very curious about the workings of the outside world, and thus, takes interest in Ciel Phantomhive and other strangers to the village.

Vote for the featured article of the month.
Main article: Sieglinde Sullivan
Featured Quote of the Month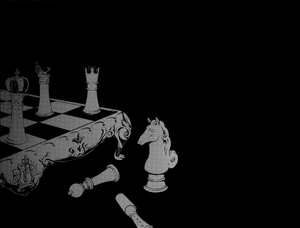 July 2014
In this castle haunted by the eerie presence of a killer, he smiled so innocently like a child. I don't think I'll ever forget that face. Because with that cruel and beautiful smile he looked like he was simply enjoying a game, like an imp that had branched from a demon.

— Arthur Conan Doyle about Ciel Phantomhive
Vote for the featured quote of the month.
Most Recent Manga Chapter
Chapter 95
Ciel continues struggling with his past, but eventually regains his senses once he recalls that he is seeking revenge simply for himself and no one else. Shortly after, he apologizes to his servants for his behavior. Sebastian, then, hands over important documents, and Ciel discovers the true nature of the so-called curse. He also realizes, to his surprise, that Queen Victoria has requested for Sieglinde Sullivan to have tea with her.
Most Recent Anime Episode
Book of Circus: Episode 3
Ciel manages to pass the Noah's Ark Circus's entry test, with Sebastian's secret assistance. Afterward, Joker gives them a backstage tour, and Dagger oversees their practice. Impressed with Sebastian's athleticism in particular, Dagger compares the said individual to "Suit." Ciel and Sebastian are surprised that a Grim Reaper is there, which confirms their suspicions that there is something going on at the Circus.
Kuroshitsuji Wiki Poll
Manga Poll: What do you think of the Witch Forest Arc thus far?
Anime Poll: A new anime series for Kuroshitsuji has been green-lit! What is your personal preference/opinion regarding what the anime should be about?
Results of previous poll:
Total votes: 667
Are you excited to watch the Kuroshitsuji Live-Action Film?
Mega Super Duper Yes! = 60 Votes (9% of all votes)
Pretty much. = 7 Votes (1.05% of all votes)
Meh, I already have my doubts about its quality. = 35 Votes (5.25% of all votes)
Hell no, I'm sure it's going to be a train-wreck. = 15 Votes (2.25% of all votes)
NO, I'M CRYING! WHY DOES IT HAVE TO BE IN THE 21ST CENTURY? WHERE'S CIEL? = 84 Votes (12.59% of all votes)
It's cool and all, but I honestly prefer another season of the anime. = 466 Votes (69.87% of all votes)
Affiliated Wikis
Want to affiliate with us? Please contact us here.