Home
542articles on
Kuroshitsuji Wiki
Talk

103
Phantomhive Times
Wiki Announcement (20 July 2015): User Tsuminohime, an administrator of two years, has been promoted to bureaucrat. Be sure to congratulate her on her Message Wall.
Important Notice: This wiki no longer accepts images in .jpg format; such images will be promptly deleted, without question. Always upload images of high quality, i.e. in .png format. Existing .jpg images on this wiki will eventually be replaced by their .png alternatives.
2nd Important Notice (13 August 2015): We have disabled anonymous editing. Please navigate to this thread to learn more about this!
Character Popularity Poll: View the results for the official character popularity poll of Kuroshitsuji here. Discuss the results here!
Did you know?: Since December 2013, Kuroshitsuji Wiki has a Twitter account! We will keep you updated with the latest news about the Wiki and the series itself! Follow us: @BlackButlerWiki
You can submit poll suggestions via Google Form! Please click here to try it out! For more information regarding this matter, please refer to this thread.
Forum discussions that are inactive for a period of two weeks or more will be closed. This is currently an informal rule that will eventually be incorporated into our policies; for the time being, it will simply be enforced.
A huge image readjustment stage is underway to facilitate the usage of Image Galleries. Images will be processed and deleted if they are duplicates, have poor quality, and/or serve no point to the articles. There will be various red links, and hopefully replacements of standard quality will be uploaded soon. For profiles having red links, the users that have uploaded those images have not been actively contributing for roughly a period of two months or more.
Please ensure you are familiar with Kuroshitsuji Wiki's policies, for they will be enforced. You can find them assembled at this link.
Main article: Kuroshitsuji Wiki:Phantomhive Times
Featured Article of the Month
A Grim Reaper is a neutral supernatural being that is primarily responsible for reviewing and collecting souls in the Kuroshitsuji universe.
---
A Grim Reaper is a former human, whom after committing suicide, is compelled to continuously observe other peoples' deaths until the day they are forgiven. Their principal job is to check each dying soul's memories, known as a cinematic record, and pass judgement on whether they deserve to die or not. Their main weapon source is a Death Scythe, which is additionally used during the soul-collection process. Grim Reapers are assorted into different departments depending on their specific duty. Most importantly, they are strictly forbidden from meddling with human affairs.
Vote for the featured article of the month.
Main article: Grim Reaper
Featured Quote of the Month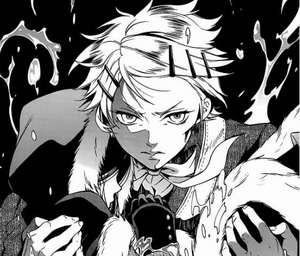 A long time ago, blond hair was called 'finn.' The protagonist of this tale was also named that way because of his beautiful blond hair. He ran through the forest faster than a hare. He was stronger than a deer. Resembles you, don't you think? That's why 'Finnian' is the name I want to give you.

— Ciel Phantomhive to Finnian
Vote for the featured quote of the month.
Kuroshitsuji Wiki Poll
The Emerald Witch Arc has concluded! What are your overall thoughts on the arc?
Have you seen the Book of Murder two-part OVA yet?
Results of previous polls:
Total votes: 1883
How excited are you for the two-part OVA, Book of Murder?
The Phantomhive Manors Murder Arc was my favorite, so of course I'm super excited! = 665 Votes (35.32% of all votes)
This is, indeed, very awesome! = 359 Votes (19.07% of all votes)
Why couldn't it have been a season instead of an OVA? I'm slightly disappointed, but I'm still going to watch it. = 610 Votes (32.4% of all votes)
I am neutral/have not really formed an opinion of it. = 36 Votes (1.91% of all votes)
Meh, I'm more interested in seeing the Ship Voyage Arc get animated. = 188 Votes (9.98% of all votes)
Nah, I'm not excited. = 25 Votes (1.33% of all votes)
Total votes: 1422
What do you think of Book of Circus thus far?
A-W-E-S-O-M-E. Best. Season. Ever. It completely blew my mind, and surpassed all of my expectations! = 945 Votes (66.46% of all votes)
It's astounding! It quickly became part of my weekly ritual to watch it. = 294 Votes (20.68% of all votes)
I am really fond of it, but I enjoyed Season 1/Season 2 more. = 110 Votes (7.74% of all votes)
Not bad, I like it, but some parts may be uninteresting/are not to my taste. = 14 Votes (0.98% of all votes)
I am neutral/have not really formed an opinion of it. = 17 Votes (1.2% of all votes)
I somehow envisioned it better with the manga. = 25 Votes (1.76% of all votes)
Meh, I just want it to be over. = 6 Votes (0.42% of all votes)
It's bland and unappealing. Frankly, I dislike it. = 11 Votes (0.77% of all votes)
Affiliated Wikis
Want to affiliate with us? Please contact us here.