Home
558articles on
Kuroshitsuji Wiki
Talk

103
Phantomhive Times
Phantomhive Times: Forum Broadcast Edition: Did you know that our news channel, Phantomhive Times, is updated monthly in the forums? Read our very first news report here! One of its segments will allow you to get to know the main editors here better. For the purpose of that segment, we have established a poll down below. Please vote! The November 2015 Issue is out! Read it here!
SEND US YOUR QUESTIONS VIA GOOGLE FORM!
Who do you want to get to know better?
Translations: Starting with Chapter 109, Yen Press has been translating the latest chapters of the Kuroshitsuji manga just as they are being released in Japan! Discuss the exciting news here! More info is available here!
Anime Film: A Kuroshitsuji anime film has been green-lit! Read about the news and discuss it here!
Important Notice: This wiki does not accepts images in .jpg format; such images will be promptly deleted, without question. Always upload images of high quality, i.e. in .png format. Existing .jpg images on this wiki will eventually be replaced by their .png alternatives.
Character Popularity Poll: View the results for the official character popularity poll of Kuroshitsuji here. Discuss the results here!
Character Nicknames: Check out the complete list of character nicknames Yana Toboso provided for us in Downstairs with Black Butler VIII here!
Did you know?: Since December 2013, Kuroshitsuji Wiki has a Twitter account! We will keep you updated with the latest news about the Wiki and the series itself! Follow us: @BlackButlerWiki
You can submit poll suggestions via Google Form! Please click here to try it out! For more information regarding this matter, please refer to this thread.
Forum discussions that are inactive for a period of two weeks or more will be closed. This is currently an informal rule that will eventually be incorporated into our policies; for the time being, it will simply be enforced.
A huge image readjustment stage is underway to facilitate the usage of Image Galleries. Images will be processed and deleted if they are duplicates, have poor quality, and/or serve no point to the articles. There will be various red links, and hopefully replacements of standard quality will be uploaded soon. For profiles having red links, the users that have uploaded those images have not been actively contributing for roughly a period of two months or more.
Please ensure you are familiar with Kuroshitsuji Wiki's policies, for they will be enforced. You can find them assembled at this link.
Main article: Kuroshitsuji Wiki:Phantomhive Times
Featured Quote of the Month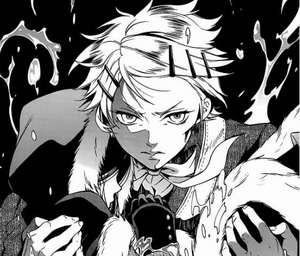 A long time ago, blond hair was called 'finn.' The protagonist of this tale was also named that way because of his beautiful blond hair. He ran through the forest faster than a hare. He was stronger than a deer. Resembles you, don't you think? That's why 'Finnian' is the name I want to give you.

— Ciel Phantomhive to Finnian
Vote for the featured quote of the month.
Kuroshitsuji Wiki Polls
How do you refer to this series?
A Kuroshitsuji anime film has been green-lit! Your thoughts?
Results of previous polls:
Total votes: 261
The Emerald Witch Arc has concluded! What are your overall thoughts on the arc?
It was fantastic! This arc is my absolute favorite of all time! = 12 Votes (4.6% of all votes)
I am really fond of this arc; it is one of my favorites. = 113 Votes (43.3% of all votes)
Not bad, I like it, but some parts were uninteresting/not to my taste. = 75 Votes (28.74% of all votes)
Meh, I like the Public School Arc more. = 20 Votes (7.66% of all votes)
From start to finish, I could never bring myself to like this arc. Yes, it was that bad. = 4 Votes (1.53% of all votes)
Who cares about this arc? 'Tis old news. I'm excited for the next one! = 37 Votes (14.18% of all votes)
Total votes: 310
Have you seen the Book of Murder two-part OVA yet?
Yes! It was awesome and perfectly suspenseful! I was so shocked when I found out who the true murderer was! Best OVA ever! = 126 Votes (40.65% of all votes)
Yes, and it was great. = 30 Votes (9.68% of all votes)
Yes, but the manga portrayal of the arc was better, in my humble opinion. = 21 Votes (6.77% of all votes)
Yes. I already read the manga and so I knew everything that was going to happen, but I was STILL entertained due to how wonderfully animated and scripted the OVA was. = 66 Votes (21.29% of all votes)
Yes, but since I already read the manga, I knew everything that was going to happen, so it was not a very exciting experience for me. = 5 Votes (1.61% of all votes)
Yes. It was OK. Some parts were uninteresting/not to my taste. = 2 Votes (0.65% of all votes)
Yes, and I did not like it. = 0 Votes (0.00% of all votes)
No, but I will eventually! = 58 Votes (18.71% of all votes)
No, and I do not plan to watch it. = 2 Votes (0.65% of all votes)
Affiliated Wikis
Want to affiliate with us? Please contact us here.