Welcome to the Phantomhive Times, Kuroshitsuji Wiki's news machine. Here, we report updates for this Wiki and the Kuroshitsuji series. Anyone can start a report, but make sure to include these necessary components: a verifiable source (if it is about the Kuroshitsuji series), the date, and your signature (~~~~).
Reports should be structured in a chronological manner, with the most recent posts on top. Remember, only news related to the Wiki and to the Kuroshitsuji series are allowed. Let's work together as a community to maintain the newsletter! If you find that our reports are either incorrect or incomplete, feel free to edit them as you feel fit. Just be sure to include (''Edited by'') along with those same ~~~ below the original reporter's name.
After reporting the news here, please place a mention of it along with a direct link to that section on this page: Kuroshitsuji Wiki:Phantomhive Times/News Box, so that it will appear on the Main Page. To save space, please limit news entries on the News Box to a reasonable amount.
January 2019
January 18: Chapter 148 Summary
The summary for Chapter 148 can be read here. ----Reporter: Momo
January 6: Best of 2018
2018 ended a few days ago, and now, it is time to vote for the Best Character, the Best Chapter, the Best Moments, etc. the manga brought us in 2018 here! 🎉
January 1: HAPPY NEW YEAR!!!
🎉 HAPPY NEW YEAR 🎉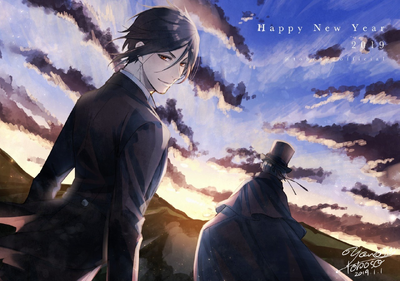 Archives
References