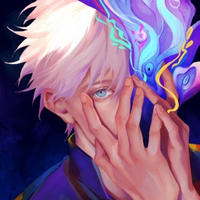 Lau Infobox
| | |
| --- | --- |
| | This user is a Lau fan. |
| | |
| --- | --- |
| | This user is a Ciel fan. |
| | |
| --- | --- |
| | This user is a Alois fan. |
| | |
| --- | --- |
| | This user would love to try some of Sebastian's sweets. |
| | |
| --- | --- |
| | This user supports the Demons. |
About Me
Hey, I'm a fanboy of Kuroshitsuji and of course, Lau! He's funny. Anyhoo, I'm often enthusiastic and easygoing, and I love meeting new people.
I'm not too comfortable with serious and formal stuff. I usually try to lighten up the atmosphere. Meh, so black-tie events are no-no's for me. My favorite foods are wonton (I like the name), ricecakes, spicy noodles, chow mein, and fried chicken.
If anyone needs help, just message me on my talk page. I only bite food, not human beings.
Family
Buddy - Granny
Mrs. P - Mom
Robin - Uncle
Meli - Auntie
C iel - Twin
Anjell - Twin
Lego - Bro
Swipe - Bro
Bugs - Bro
Tsumi - Sister
Skye - Sister
Whirlybird - Sister
Tenshi - Sister
Nerd - Cousin
Shrig - Nephew
Phantom - Family Dog

My Nemesis
Serene - The epic failing, greedy, popcorn selling, hat wearing, lying ninja that I am still trying to arrest.
Unknown
These are the people who I'm indefinite about. We're currently running some DNA tests, etc, ya know, to decide how they belong in my family:
Special Note
Just telling you guys that I love Tsumi a lot! She's really nice to everyone and especially to me :D she's my fav sis and she totally rocks my world!! I really love her :D Tagged by Anon
Favorite Characters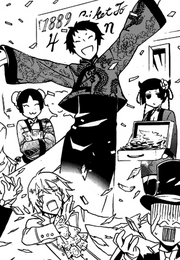 Lau: Needless to say, he's my top favorite. He has an aweshum sense of humor and a joyful vibe. Meh, this Chinese man can be unpredictable.
Ran-Mao: Lau's personal assassin, or "cat". She says funny one-word sentences and is aweshum with her clubs.
Tanaka: Ho, ho, ho is basically all he says and drinking tea is basically all he does. All in all, he's hilarious in his chibi form, especially when he goes back to regular size and then the others are like: "He grew!"
John Brown: Although he's barely in, he's hilarious! John talks a lot about the Queen and then gets trampled by her! And let's not forget the Prince Albert hand puppet that he uses with a dead face. Too funny, too funny.
Soma: Ok, I didn't think much of this guy before, but now he's friggin' aweshum! It was funny as hell when he messed with Maurice Cole, popping outta no where to say "Hey!"
Elephant: Soma's elephant is the most badass thing ever, much better than a batmobile for transportation. Gotta get me one of those.
Maurice Cole: This guy's personality ain't too great, he has too much issues. But whatever 'cuz he and Soma together is epic! He always goes nuts when Soma bothers him, and his face without makeup is friggin' funny.
The Midfords: Altogether, they are supah epic with their swords. Heh, Alexis Leon is cool when you know he's actually not a dead serious person. Turns out he is fond of Ciel, eh, just like Lizzy. Edward is funny when he gets jealous of Ciel. Francis is a strong woman that dominates over all of them, so it's enjoyable to see them obey her. And Lizzy, well... only one word describes her when she has them swords in her hands: Badass.
Angelina Dalles: She has a crude sense of humor that's pretty aweshum. If only she lasted longer...
Alois Trancy: This bipolar kid is soda interesting! He's weird, yeah, but hilarious. Especially when he dances and shouts Ole!, and his boring butler simply stares.
Undertaker: He's funny, too. I like his coffins and bone biscuits. And just like me, he likes "first-rate" laughs. Epic with his sotaba, eh?
Aleister Chamber: Pretty weird-ish dude that's really dramatic, but he's comical (figured I used "funny" too much). I mean, he keeps on gasping then fainting to the point that an emoticon (created by this aweshum person) is dedicated to him: *[]* And what the hell, he is the most invincible guy I know - he friggin' never dies!
Ciel Phantomhive: The Earl is pretty neat, if not slightly too serious. But whatever; it's funny when other people annoy him. Haha. Shortest kid, ftw!
Least Favorite Characters
Arthur Randall: Meh, Randall is too grouchy and he always yells and complains. What a pity, pity that he doesn't know how to chillax and have fun.
Claude Faustus: It was so much better when he was just mutely staring his what-the-hell face at Alois... But then he became obsessed with Ciel and, man, even blushed and stuff. Recommend therapy.
Baron Kelvin: Freaky beyond words. 'Nuff said.
Former Head Trancy: Nastiest pedo alive! He is creepy, disgusting and disturbing. The only thing he never fails at is triggering my gag reflex.
Favorite Quotes

So, what are we talking about?

— Lau

The Earl is sparkling. What a bully.

— Lau

It seems your talent for dancing is non-existent. It must be crushing, young master.

— Sebastian Michaelis

I have lived for a long time, but this is my first time meeting a space alien. What kind of counter-attack is that sparkly, smiley face expecting from me?

— Sebastian Michaelis

If it's your wish I will follow you everywhere. Even if your throne crumbles and your shiny crown turns to rust. Beside you as you lie, softly down, I will be. Until I hear the words, 'check mate'.

— Sebastian Michaelis

You did the right thing. You fought to protect your own world. There's nothing wrong with that. After all, justice in this world is a sham created by those in power for themselves. No one gives a damn about anyone else. If you're careless, you're sure to lose. To begin with, only two kinds of humans have ever existed in this world. Those who rob, and those who are robbed. And today… I shall rob you and your allies of your futures. That's all there is to it.

— Ciel Phantomhive

Humans are easily tempted. When they are poised on the edge of hellish despair and a spider's thread of salvation presents itself, they will invariably grasp it... no matter the manner of human.

— Sebastian Michaelis

White flowers and plain clothes do not befit you. What suits you best is passionate red. The colour of lycoris that blazes the earth... Aunt Ann.

— Ciel Phantomhive

How sad it would be, should laughter disappear.

— Undertaker

Aweshum daddies give birth to aweshum kids who share great minds with other aweshum kids who were born from other aweshum daddies who can be buddies with the aweshum daddies who gave birth to the aweshum kids who are sharing great minds with their kids.

— Tsumi

I don't know, you know?

— Lego

My internet wants my life to suck.

— Mrs. P

Something into something. A straight guy into a homo. This pizza into a bucket of fried chicken. That's what makes a Trancy Butler.

— Nerd that rents my closet

Waiting.

Still waiting.
How long must I await your return Master?
Will eons pass?
Oh how I will long for the day the Master returns!
But for now,
I shall stay in
Waiting.

—

"Waiting for the Master" ~ McHale "Bug Guts"
---
Dearest twin, I am saying hello from my school. :) Tag, you're it. ~ <3 Anjell
Angelfeathers 16:03, May 30, 2012 (UTC)
---
I've discovered something cool:
<span style="color:rgb(0,0,0);font-family:Arial,Helvetica,Tahoma,Verdana;font-size:medium;line-height:normal;text-align:center;"></span>