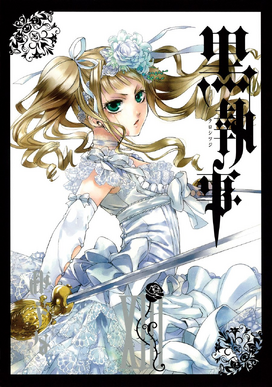 Statistics
Japanese release date: December 27, 2011
Japanese ISBN: 978-4-7575-3460-5
English release date: April 23, 2013
English ISBN: 978-0-316-24429-9
Cover character: Elizabeth Midford
Extras title: Black Spy
Chapters Included
Volume 13 Gallery
Trivia
Volume 13 is the first volume to have a female on the cover.
With the release of Volume 13 in Japan, Kuroshitsuji reached 10 million copies (of both volumes and books) in circulation around the globe.[1]
References
Ad blocker interference detected!
Wikia is a free-to-use site that makes money from advertising. We have a modified experience for viewers using ad blockers

Wikia is not accessible if you've made further modifications. Remove the custom ad blocker rule(s) and the page will load as expected.